And to think I almost didn't go! I spontaneously decided at the very last minute to attend this sublime intimate concert of the new resident artists of l'Atelier Lyrique de l'Opera de Montreal at the Ritz-Carlton. By last minute, I mean about 3 hours before the concert began, because you know me, I needed a minimum of time to get pampered and dressed. But seriously, why did I ever think of turning down an opportunity to go to the Ritz?? The Ritz AND a classical singing recital with some of the greatest young singers in Canada!
---
Because, lets be honest. This year's resident singers must be the greatest group they've had in years! They have a contagious energy, an engaging scenic presence, and voices to make you shiver with delight! You might actuallt have already had the opportunity to witness Kevin Geddes and Myriam Leblanc in Opera de Montreal's latest production of Aida.
OUR TOP THREE OF THE EVENING
Chelsea Rus, ​
​soprano

I think I stopped breathing the whole time she was singing. And when she smiles, you smile too. Don't miss her in Women and Opera presented at the Bibliotheque et Archives nationales du Quebec!
​#smileyface

Carol-Anne Fraser, ​pianist

I will always admire how much repertoire pianists have to learn; think about it, she plays for every singer in the Atelier! And since that's clearly not enough, she is also assistant rehearsal pianist at Opera de Montreal. #whatisprocrastination

Lauren Margison,
​soprano

Hard to believe that it's her first year at the Atelier! Such a powerful voice, I cannot wait to see more of her! She will do her Opera de Montreal debut as Soeur Mathilde in Dialogues des Carmélites. #psyched
Powered by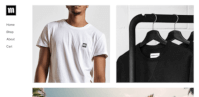 Create your own unique website with customizable templates.