In almost every industry, women often find themselves at a disadvantage professionally, whether they face less growth opportunities or overall decreased incomes compared to their male equivalents. And although the debate is hot at the moment, especially in the classical music industry, we can only notice a few minor improvements backstage or on stage.
In opera, this discrepancy is not as noticeable on stage. The common gender bending roles aside, a role for a high voice requires a high voice, which is more often than not, performed by a woman. But what if we look to composers, conductors and instrumentalists? The
Metropolitan Opera 2018-2019 season
showcases absolutely no female composer or conductor, same goes for Opera de Montreal and Houston Grand Opera (who received funding in
2017 from Opera America
for their support for female composers!?!). It's not that women artists should be prioritized over men regardless of quality requirements or that we can't appreciate the numerous talented male musicians, past and present; it's simply that still today, we must give more these women more opportunities to create and perform in order to expose their talent and create role models for the next generation.
The 4th Edition of Festival Stella Musica
Pianist Katarzyna Musial pulling on Nathalie Choquette's hot pink chewing gum dress! Photo: Patrick Huot
I had the pleasure recently of attending a concert at Theatre Outremont in Montreal where women were celebrated for their artistic achievements. Led by its artistic director Katarzyna Musial, Festival Stella Musica brought together on stage larger-than-life soprano Nathalie Choquette, composer and musician Barbara Croall, and choreographer Jane Mappin. Nathalie Choquette humoured the audience with revamped famous works from the operatic repertoire, among which Casta Diva from Bellini's Norma, and Largo al factotum, Figaro's iconic aria from Il barbiere di Siviglia. With a costume for every excerpt, Nathalie Choquette brought to life her characters as rarely seen before. For her aria My Man's Gone Now from the opera Porgy and Bess, she wore a 10-feet long stretchy pink dress, because George Gershwin-gum. #cuelaughs

Nathalie Choquette's humoristic appearances were contrasted by the introspection in psychological distress in Jane Mappin's choreography Ils m'ont dit, and Barbara Croall's compositions for solo pipigwan, which she also performed. Lullaby was particularly transcending as she sung for the Aboriginal mothers who lost their children to residential schools.
The Stella Musica Festival is particularly important for me. As a classical pianist from a very young age, I rarely encountered works by women composers. Likewise, women conductors were until recently a rather rare sight on international stages. If things have somewhat improved today, much of women's creative efforts too often remain hidden from earshot. Stella Musica aims to make these works and performers better known. This is at once long overdue, and a breath of fresh air.
-Katarzyna Musial, Artistic director of Stella Musica Festival
I can only hope that this festival will grow in events, such as concerts, panels, and workshops, in order to reach an even broader audience, women and men combined. The 5th edition will take place in March 2019, be sure to follow Stella Musica on
Facebook
for upcoming announcements!
What better way to celebrate Valentine's Day than with some opera? I know, I know, you can probably think of many different ways to spend quality-time with your significant other on February 14th. You can make reservations at that fancy restaurant he's been hinting at for the past month, or you could cook her a fabulous dinner set on a Pinterest-worthy decorated table. Sounds familiar to what you did last year?
So how about something you've never tried, something you've always postponed to later, or maybe something you never thought as a viable option? Or maybe it's the perfect opportunity because you've always wanted to do it! Every year, I get calls and messages asking me what operas I would suggest to bring a date to, whether they are trying to initiate their SO to join them once again or they've begun dating someone and want to impress.
Your mother approves, you need something to Step it up
Rigoletto didn't approve of his daughter Gilda's choice of suitor. And with reason. But I cannot think of a better way to really stand out from the exes than by offering to take your special someone to an opera.
If you've never been to an opera, it's probably very ballsy to get a pair of tickets and invite a date for Valentine's.
Gifting a pair of tickets in a dark sealed red envelope will either be fancy, daring or thoughtful. Any way it goes, it is sure to make an impression!

You may think that opera is not an option for your SO but as my mother always said: ''You can't say you don't like something if you've never tried it!'' At the time, she was talking about Brussel sprouts, but this saying most definitely applies to opera.
Anna Christy as Gilda and Roland Wood as Rigoletto in the Canadian Opera Company's production of Rigoletto, 2018, photo: Michael Cooper
a choice between Verdi and Mozart
This month, the Canadian Opera Company presents The Abduction from the Seraglio by Mozart and Verdi's Rigoletto. And if you're like me and my boyfriend, you'll attend both! But maybe that would be coming on a little too strong, especially if you and/or your SO are new to opera.
For the Opera-lovers

As conductor and music director Johannes Debus puts it, this is most likely the musical piece that got him into opera. The Abduction from the Seraglio is a Singspiel; a German-language light opera with spoken dialogue, much like its sister opera, The Magic Flute. Although this is a classic in the opera repertoire, I suggest it to the opera-lovers. German dialogues and a running time of 3.5 hours has the potential to dissuade the opera-curious, but hardly the opera-lover. Also, this production is signed by Lebanese-Canadian writer Wajdi Mouawad, who takes on a refreshing approach of the interaction between Western and Eastern cultures, topped with a feminist viewpoint. This opera lives through the music, beyond the words, as Mozart intended, and succeeds in being relevant even over 200 years after it was composed.

For the opera-Curious

Verdi is the master of bel canto. Even more so, Alexander Neef, the COC's General Director and newly appointed Artistic Director of Santa Fe Opera, mentions that in Rigoletto, every dramatic moment has a purpose. I am most excited to see baritone Roland Wood perform the famous aria

Cortigiani, vil razza dannata,

one of my personal favourites.

You'll sympathize with the father who most unwillingly precipitates his daughter's death.

Rigoletto is an Italian opera classic that is a great way to begin your experience with opera.

Visually strong, this production' sets and costumes designed by Michael Levine seem to be straight out of a Victorian painting.

​Somewhere in line with what you would expect and yet challenges stereotypes. The story lives with each performance. ''Without us, it's ink dots on a piece of paper'' says conductor Christopher Alden.
My boyfriend had zero chances of ever going to an opera

I recently realized that over the course of our six year relationship, we've seen about 20 live operas. Yet, when I first met my Jeremie, there was absolutely no chance that he would ever agree to accompany me to an opera. Like, zero, nada, niet. Although he plays the piano, he mostly enjoyed underground UK rap and long- distance cycling. He didn't own a pair of dressed shoes, or a dress shirt. Not that it actually matters, you can go to the opera wearing whatever you'd like. But (unfortunately) attending an opera is still intimidating for most, especially if you feel as though you don't fit in based on your appearance.

Yeah, maybe he fell asleep

during the first act when we started attending.

Now, his all time favourite production is the COC's

Gotterdammerung

by Wagner!!! Wagner!!

Valentine's day is on Hump day

Are you like me and have a 9 to 5 job from Monday to Fri-yay?When it's 11pm on a Wednesday, it's not that I don't want to continue the perfect Valentine's Day evening and keep the party going, it's that I can literally hear my pillow calling my name. Right? That's why we decided to keep it small yet romantic on Wednesday, and head out to Toronto for an weekend getaway!

We began planning trips together with opera at the center of it. #thedream Every time Toronto comes up, we take a COC performance as a night on the town, and either we start with dinner or head out to a wine bar after the performance. We dress to impress, and end up impressing each other the most.
Don't break the bank
Many think that opera is in no way tailored for young people. Think again! If you're under 30 years old, you can get tickets for just 22$ in designated areas. Trust me, I saw
Salome
back in 2013 from the fifth ring and I did not miss one bit of the drama and emotion that was spiralling on stage. The Four Seasons Centre for Performing Arts is well-designed and the experience you get from any seat in the hall is beautiful.
Feeling for an upgrade? Pay 35$ per ticket, and the COC will upgrade your seat on the day of the performance (depending on availability of course).
You're date is over 30? No biggie. you can get a discounted ticket for them too. Trust me on this, buy the tickets now, and take advantage of
this program
asap.
Powered by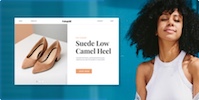 Create your own unique website with customizable templates.